Motorola moto e⁵ plus Gold smartphone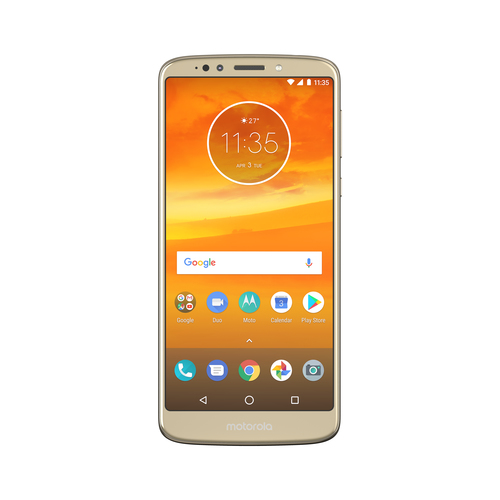 Model:
moto e⁵ plus
₴4504 – 5405 (UAH)
Motorola moto e⁵ plus. Display diagonal: 6"", Display resolution: 1440 x 720 pixels, Display type: IPS. Processor frequency: 1.4 GHz, Processor family: Qualcomm Snapdragon, Processor model: 425. RAM capacity: 3 GB, Internal storage capacity: 32 GB. Rear camera resolution (numeric): 12 MP. SIM card capability: Dual SIM, 4G. Operating system installed: Android 8.0. Battery capacity: 5000 mAh. Product color: Gold. Weight: 7.05 oz (200 g)
Compare Prices (UAH)
Specs Motorola moto e⁵ plus
Description Motorola moto e⁵ plus
built for your best life
Introducing moto e⁵ plus, featuring a 1.5-day battery, a 6" Max Vision display, and a 12 MP camera with laser autofocus, all engineered to fit in a slim design that looks as good as it feels.

so powerful
With a huge 5000 mAh battery, you get up to 1.5 days of battery life. And when it's time to power up, don't slow down. The 10 W rapid charger gives you a quick burst of battery life when you need it most.

impressive display
Enjoy a 6" Max Vision display you can use comfortably with just one hand. Do less scrolling on websites. Get a crazy-wide landscape view of games. Even multitask effortlessly on a split screen – if you're into that sort of thing.

sharp photos
The 12 MP rear camera focuses in an instant with laser autofocus technology and lets in more light with large, 1.25 μm pixels. Turn it around and the 5 MP selfie camera snaps you and your friends in superb lighting, day or night, with the dedicated front flash.

stand out
Designed with a reflective wave pattern and an arched back for a look as great as it feels. On the front, the rounded corner glass panel provides smooth edges, and in the back, the aerial is hidden away.

exclusive interactions
Only motorola phones react to simple gestures to instantly reveal a function or communication you need at that moment. Customise which moto experiences you'd like to use by simply visiting the moto app on your new phone.

fits into your life
Engineered to save you time without sacrificing security, to amp up your favourite music, and to grow when you need it, so there's no limit to your entertainment.

Smart, secure fingerprint reader
Touch the fingerprint reader to wake up and unlock your phone instantly, and lock it again when you're done. It's discreetly located within the phone's iconic logo, so you hardly know it's there until you use it.

Crystal clear sound
With the front-ported speaker, hear conference calls and your favourite music and movies perfectly, even when the phone's lying on its back.

You can have it all
Add up to 128 GB more photos, songs, and movies thanks to a dedicated microSD card slot. Now you don't have to choose between adding a second SIM card for work or adding more storage.
Gallery Motorola moto e⁵ plus