Motorola Moto G5S Grey smartphone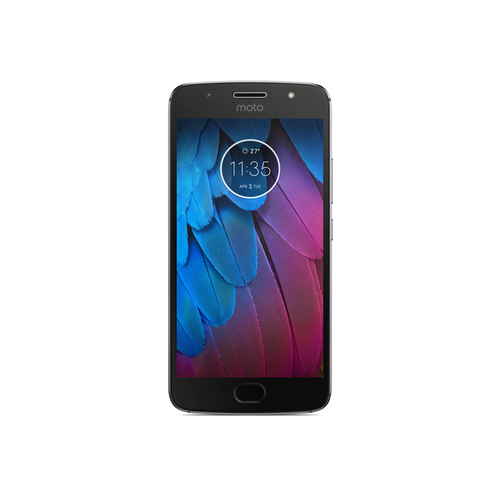 Model:
Moto G5S
₴5166 – 6251 (UAH)
Motorola Moto G5S. Display diagonal: 5.2"", Display resolution: 1920 x 1080 pixels. Processor frequency: 1.4 GHz, Processor family: Qualcomm Snapdragon, Processor model: 430. RAM capacity: 3 GB, Internal storage capacity: 32 GB. Rear camera resolution (numeric): 16 MP, Rear camera type: Single camera. 3G, 4G. Operating system installed: Android 7.1. Battery capacity: 3000 mAh. Product color: Grey. Weight: 5.54 oz (157 g)
Compare Prices (UAH)
Description Motorola Moto G5S
metal marvel
The new Moto G5S features a sleek, all-metal unibody design, precision-crafted from a single piece of high-grade aluminium. Diamond cut and painstakingly polished for a flawless finish, it's stunningly beautiful and stronger than ever. Choose from Lunar Grey or Fine Gold designs.

power play
Stay unplugged even longer with a 3000 mAh battery that lasts all day. When it's time to power up, don't slow down. The included TurboPower™ charger provides up to 5 hours of battery life with just a quick 15 minute charge.

focus on great photos
The Moto G5S high-resolution 16 MP rear camera has phase detection autofocus (PDAF) so more than 200,000 pixels lock onto your target in an instant. You'll never miss a shot.

Plus, Pro Mode gives you more control over professional features like white balance and shutter speed. And, Best Shot automatically selects the best pic in a burst to keep.

When it's time for a group selfie, the wide angle 5 MP front camera with new LED flash makes everyone radiant in any light. Activate Beautification Mode for extra-gorgeous selfies.

performance on display
Enjoy your favourite entertainment in vivid colours with crisp details on a 5.2" full HD display. With a Qualcomm® Snapdragon™ 1.4 GHz octa-core processor, powerful graphics capabilities, and support for 4G speed, you can browse the web quickly and stream music and videos without delays. Plus, when you're on the go, a splash-proof coating and Corning® Gorilla® Glass screen protect your phone from the elements.

locked and loaded
Go ahead, forget your password. With Moto G5S, your fingerprint unlocks your phones and your wallet. Make mobile payments at participating retailers without having to type a password.

navigate with a touch
The new one-button navigation makes old school on-screen buttons disappear, so you get a much better view. Use the fingerprint reader as a directional key: by swiping left to go back, right to access recent apps, and tapping to go home.

pay easily with just a tap
With Moto G5S, making mobile payments is easier. Just place your phone near a compatible NFC terminal and use your fingerprint. There's no need to carry cash or credit cards. Even shop the Google Play store and dozens of apps—no password required.
Gallery Motorola Moto G5S