Lenovo VIBE X2 Gold smartphone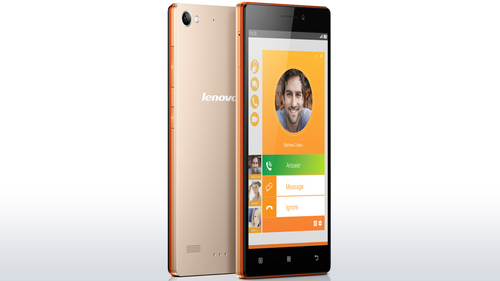 Model:
X2
₴8542 – 10250 (UAH)
Lenovo VIBE X2. Display diagonal: 5"", Display resolution: 1920 x 1080 pixels, Display type: IPS. Processor frequency: 2 GHz, Processor family: MediaTek, Processor model: MT6595m. RAM capacity: 2 GB, Internal storage capacity: 32 GB. Rear camera resolution (numeric): 13 MP. SIM card capability: Single SIM, 4G. Operating system installed: Android 4.4. Battery capacity: 2300 mAh. Product color: Gold. Weight: 4.23 oz (120 g)
Compare Prices (UAH)
Description Lenovo X2
Multi-Layered Design
Stand apart from the crowd with the unique VIBE multi-layered design, crafted to fit your multi-layered lifestyle.

MediaTek 4G LTE True8Core™
Experience multimedia excellence with MediaTek's advanced 4G LTE True8Core™ processor with power-saving features to boost battery life. 2GB of RAM complement processing power for a smooth and responsive experience, no matter the task at hand.

Brilliant Cameras, Great for Selfies
The VIBE X2 lets you snap brilliant 13MP photos and 5MP selfies with a new simplified interface. Multiple shooting modes give you creative flexibility, beautification features keep you looking young, gesture & voice controls let you steady your hand, and anti-distortion components balance selfies perfectly.

Game-Changing Accessories
Add another layer to your smartphone with convenient VIBE Xtension™ click-on cases. Fuel your VIBE with the VIBE X2 Battery for up to 75% more battery life. Amplify your VIBE with the VIBE X2 Speaker, delivering hi-fi JBL quality audio.

Instant On
The VIBE X2's innovative new design gives you instant out-of-pocket access to your camera, contacts, and favorite apps from the black screen or lock screen.

4G Speed
The VIBE X2 supports high-speed LTE (4G) networks for the fastest data connectivity, helping you reach your full enjoyment potential when browsing, watching, reading, gaming or chatting online.

Vibrant Full HD
Enjoy crisper images for all your content, including photos, videos, games, video chats, web browsing and more. What's more, Full HD doesn't compromise on performance - higher resolutions such as Quad HD often use more processing power.

Dual SIM
Two phone numbers in one smartphone is great whether you're separating business and pleasure, travelling to a different country, or simply want to take advantage of different service providers to save money. Not available in all regions.

Built-in Lenovo Apps
Lenovo's built-in DOit series of apps let you and your device do more - including rapid sharing of data with other devices without a network, optimizing device performance, preventing viruses and malware, and backing up your contacts, SMS, & call logs.

Android™ 4.4 KitKat
Takes system performance to an all-time high by optimizing memory and improving touchscreen responsiveness and accuracy. This means you can listen to music while browsing the web, or race down the highway with the latest hit game, all without a hitch.