Lenovo Ideaphone S90 Gold smartphone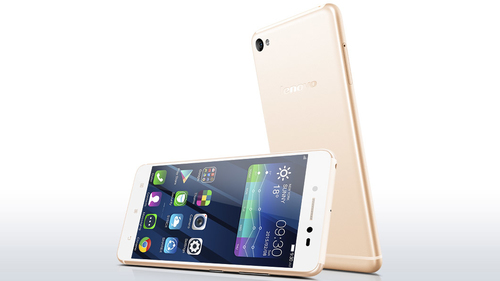 Model:
S90
₴5067 – 6080 (UAH)
Lenovo Ideaphone S90. Display diagonal: 5"", Display resolution: 1280 x 720 pixels, Display type: AMOLED. Processor frequency: 1.2 GHz, Processor family: Qualcomm Snapdragon, Processor model: MSM 8916. RAM capacity: 2 GB, Internal storage capacity: 32 GB. Rear camera resolution (numeric): 13 MP. SIM card capability: Dual SIM, 4G. Operating system installed: Android 4.4. Battery capacity: 2300 mAh. Product color: Gold. Weight: 4.55 oz (129 g)
Compare Prices (UAH)
Description Lenovo S90
Eye-catching and Durable
With its aluminium alloy unibody design, the Lenovo S90 smartphone is sure to turn heads and get people talking. Yet, it's also tough enough to resist scratches and fingerprints - perfect for when you're sharing photos with friends.

Dual Cameras: 13MP Rear, 8MP Front
The S90 lets you snap brilliant 13MP photos and picture-perfect 8MP selfies. With low-light sensors and LED flashes built in to both cameras, and the added beautification features, the S90 will capture you at your very best – in any lighting conditions.

HD Super AMOLED Display
Thanks to its thin design, the 12.7cm (5) HD Super AMOLED display uses less power and reflects less light. The result? Sharper, brighter visuals - even when outdoors. It also has wide-angle viewing - ideal for sharing with your friends.

Fast, Reliable, & Responsive
For smooth, responsive system performance that won't break the bank, the S90 is superb. Boasting a 1.2GHz 64-bit quad core Qualcomm® Snapdragon™ processor, it has the power to play music & video, run apps & games, and more - all without skipping a beat.

4G Data Speed
The S90 supports high-speed LTE (4G) networks for the fastest data download and streaming speeds. So you stay connected and browse, watch, game or chat online to the full.

Android™ 4.4, KitKat
Android 4.4 takes system performance to an all-time high by optimizing memory and improving your touchscreen so that it responds faster and more accurately than ever before. This means that you can listen to music while browsing the web, or tear down the highway with the latest game, all without a hitch.

Unlimited Music
Discover, share, and play the tracks you love wherever you are - for free. With the Guvera music app on your S90, you can go online and enjoy unlimited access to over a million songs.

32GB Storage
With 32GB of storage space, you can take all your photos, music, games, and videos with you everywhere.

Dual SIM
Two phone numbers in one smartphone can help keep business and pleasure separate. This dual-SIM feature also enables you to choose different data plans to save money.

Lenovo DOit Apps
Do more with your S90 through preloaded apps like SHAREit, which lets you share files wirelessly without network charges or a WiFi connection; Security, which speeds up your phone and protects it from viruses; and SYNCit, which lets you back up and restore contacts, SMSs, and call logs.