Lenovo Moto G White smartphone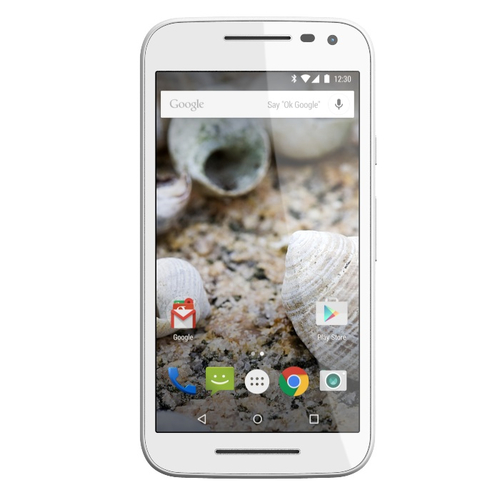 Model:
Moto G
₴4757 – 5756 (UAH)
Lenovo Moto G. Display diagonal: 5"", Display resolution: 1280 x 720 pixels. Processor frequency: 1.4 GHz, Processor family: Qualcomm Snapdragon, Processor model: 410. RAM capacity: 2 GB, Internal storage capacity: 16 GB. Rear camera resolution (numeric): 13 MP, Rear camera type: Single camera. SIM card capability: Single SIM, 4G. Operating system installed: Android 5.1.1. Battery capacity: 2470 mAh. Product color: White. Weight: 5.47 oz (155 g)
Compare Prices (UAH)
Description Lenovo Moto G
Water-resistant. Worry-proof.

You need your phone to be there for you, even in less-than-ideal conditions. IPX7-rated water protection keeps your phone safe from splashes and drops in water. After an accidental splash into a puddle or sink, just dry off your phone and keep going.

Corning® Gorilla® Glass display

You need a phone that can stand up to your demanding lifestyle. Corning® Gorilla® Glass spans Moto G from nearly edge to edge to help keep your phone protected from unsightly scrapes and scratches.

All-day battery

The new Moto G is designed to last a full day, and then some. With a 2470 mh battery, you can go about your jam-packed day and not worry about battery life. Go to school or work, visit with friends, then head out for the evening - and still have enough juice to get home.

Customize your Moto G

Make your Moto G your very own by choosing your front, back, and accent colors in Moto Maker. You can even engrave your name or a phrase on the back. Buy additional Motorola Shells to display different colors—or a Motorola Flip Shell to protect your phone front and back.

Get the best performance with a pure Android™ experience

Moto G runs Android™ Lollipop, free from unnecessary software that slows you down.

Notifications at a glance

Moto Display lets you preview notifications and updates. Nudge your phone to see what's new, then go to the app -- or leave it for later. Decide which notifications you want to see. You can even play and pause music without unlocking your phone.

Your phone does it for you

Moto Assist understands where you are and what you're doing, and adapts in ways that help you. Like letting only highest-priority calls through while you're asleep, or keeping your phone silent during meetings.

Go ahead, do it all

With a fast Qualcomm® Snapdragon™ 410 processor with 1.4 GHz quad-core CPU, and advanced Adreno graphics, you can switch back and forth between your favorite apps without slowing down.

Sharp details. Stunning HD.

With a sharp 5" HD display, every photo, video, and game looks its best. Experience vivid colors, deep blacks, and crisp whites—even outdoors.

Speed without overspending

The new Moto G gives you the blazing-fast speed of 4G LTE. So you can browse the web, stream music, play games, and watch videos.

Great shots. All the time.

The new Moto G delivers high-quality photos in any environment. Even in low light, the ultra-fast f2.0 lens produces crystal-clear images, and the color-balancing dual LED flash preserves color and clarity. What's more, High Dynamic Range (HDR) imaging helps you capture both the brightest highlights and darkest shadows, just as your eyes see them.