Sony Xperia XA Pink smartphone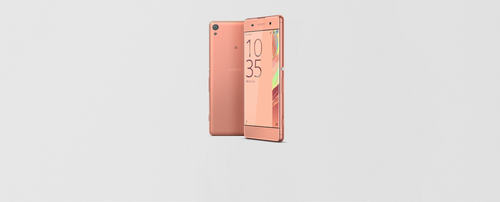 Model:
Xperia XA
₴4882 – 5858 (UAH)
Sony Xperia Xperia XA. Display diagonal: 5"", Display resolution: 1280 x 720 pixels, Display type: IPS. Processor frequency: 2 GHz, Processor family: MediaTek, Processor model: MT6755. RAM capacity: 2 GB, Internal storage capacity: 16 GB. Rear camera resolution (numeric): 13 MP. SIM card capability: Single SIM, 4G. Operating system installed: Android 6.0. Battery capacity: 2300 mAh. Product color: Pink. Weight: 4.85 oz (137.4 g)
Compare Prices (UAH)
Description Sony Xperia XA
Made to match your life

Because it's always with you
Your smartphone follows you everywhere. That's why Xperia XA has been designed with a new look and feel to truly harmonise with your life. Bringing together a stunning full-width display, a smooth, curved form and a size that's not-too-big and not-too-small. It's just right.

Take the edge off

With a curved glass display that seamlessly meets the rounded frame, this smartphone is as pleasing on the eye as it is on the hand.

Infinite viewing

Xperia XA's display stretches the full width of the phone so there's barely a frame visible. This means the screen is maximized without having to make the phone any bigger.

Go classic or go for gold

Choose your color
Xperia XA comes in four colors. Take it in Graphite Black, White, or in one of our stunning new gold hues—Lime Gold or Rose Gold. Your colorway not only covers the back, but also the phone's front panels and the hue of the screen.

For the moments that can't wait

A camera that launches in no time
Xperia XA's camera is always at the ready with a fast-launch camera button. So you'll never be left fumbling while the moment passes.

Every split-second counts

Xperia XA features Hybrid Autofocus to freeze the action in a bright, blur-free shot. And thanks to wide focal coverage, you can touch anywhere on the screen, even the corners, and fast focus on a subject.

Make your nights shine

Stunning low-light shots now with both cameras
Want to capture a selfie at a party, or maybe photograph the details of a beautiful cityscape at night? With Xperia XA's highly responsive sensors you get clear, sharp shots even in low light, with both the front and back cameras.

The phone that won't let you down

Do more with up to 2 days of battery life
Xperia XA brings you up to two days of ground-breaking battery power from a single charge. Listen to more music, talk for days, and stay out longer without worry. Need a top-up before you rush out the door? Use Xperia XA together with Quick Charger UCH12 and get 5.5 hours of battery life in just 10 minutes.

Room for more

Need extra space for all your photos, videos and music? Xperia XA lets you add up to 200 GB extra memory with a microSD™ card.

Stay fast for longer

Xperia XA runs on an advanced 64-bit Octa-core processor so your smartphone is super-fast and super-smooth, and uses less power.