LG V30 LGH930 Blue smartphone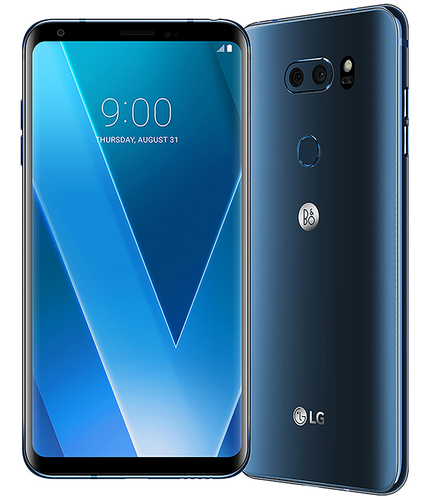 Model:
LGH930
₴7992 – 9591 (UAH)
LG V30 LGH930. Display diagonal: 6"", Display resolution: 2880 x 1440 pixels, Display type: OLED. Processor frequency: 2.45 GHz, Processor family: Qualcomm Snapdragon, Processor model: 845. RAM capacity: 4 GB, Internal storage capacity: 64 GB. Rear camera resolution (numeric): 16 MP, Rear camera type: Dual camera. 4G. Operating system installed: Android 7.1.2. Battery capacity: 3300 mAh. Product color: Blue. Weight: 5.57 oz (158 g)
Compare Prices (UAH)
Description LG LGH930
Sturdy and Seamless
Behold the bezel-less beauty. With its seamless curves and balanced 2:1 ratio, the LG V30 gives you full immersion while still fitting in your hand. The pleasing, textured finish protects it from stains and smudges - in fact, the phone has an IP68 rating and has even passed the US Military Standard Drop Test (MIL STD-810G).

See More, Hold Less
Pixels that impress. LG's revolutionary OLED display incorporates plastic for higher flexibility with breathtaking colour accuracy. Combined with FullVision technology, the LG V30's 6.0" display makes your viewing experience a real treat.

Let There Be Light
Let in the light to take clearer and brighter photos. The LG V30's F1.6 glass lens dramatically improves dynamic range and low-light capabilities. Get the perfect shot, in any environment.

Be Your Own Director
Capture the professional film look. Cine Video Mode gives you more vivid colours and greater dynamic range, just like real film. Meanwhile, the LG-Cine LOG profile creates dramatic film styles for truly cinematic storytelling.

Cine Effect
Choose from 15 different Cine Effects to enrich your storytelling with dramatic and professional color sets that make your stories even more engaging. Each featured effect was designed in collaboration with expert film colorists.

Total Zoom Control
Lights, Camera, Zoom! Preset zoom speed, location, and motion for a shot straight out of the movies. Smooth and controlled Point Zoom lets you shoot videos like a Hollywood cinematographer.

Capture the Bigger Picture
Capture brilliant wide-angle shots with less round-edge distortion. The rear dual camera has both a 16MP lens and a wide angle 13MP lens - great for group shots or landscapes. Plus, the front wide angle 5MP camera helps you fit everyone into the frame for selfies!

Awesome Videos, Epic Sound
Record pristine Hi-Fi sound wherever you go! Use the LG V30's directional receiver as a quality mic to capture superb sound, unmuffled and distortion-free, even in loud and noisy environments.

Let Every Detail Move You
It's like having your own private concert. The LG V30's Hi-Fi Quad DAC playback lets you enjoy music that sounds as rich, full, and layered as a live performance. Enjoy startling clarity with lossless file formats that ensure you never miss a beat.

Tuned to Your Taste
Have your audio tuned the way you want it. Tweaked and adjusted to your tastes and environment, LG's Sound Presets and Digital Filters add professional reference sounds so you can enjoy richer, fuller music at home or on the go.

Sound Preset
Sound Presets are professionally configured to enhance your music, just the way you like it. Select perfect presets from Enhanced, Detailed, Live, and Bass to experience music on another level.

Digital Filter
Digital Filters transmit sound characteristics that amplify your audio to convey spatial, natural, and cleaner sound to your ears, making your music sound larger, better, and more multi-dimensional.

Always Knows It's You
The LG V30's improved facial recognition technology helps you unlock your phone quicker and easier, without swiping or inputting numbers. Meanwhile, its enhanced voice recognition technology can recognize and be set to respond only to your voice, making Google Assistant more accurate, secure, and seamless every time.

Voice Recognition
The LG V30 not only recognizes your voice, it will listen for your 3-5 syllable self-generated keywords before unlocking automatically. Supported by Qualcomm Aqstic voice UI technology, the feature is always on and ready to respond, yet requires very little battery power.

Face Recognition
Even when the display is not on, the LG V30 is quick to recognize a familiar face. No need to even touch the power button, just face the camera and your phone will unlock for you.

Easy Reach
Enjoy better control and accessibility. The Floating Bar adds easy-to-reach customization without distracting you from the task at hand. Dock your favorite apps, move anywhere across the screen, and instantly access music, notifications, contacts, and more.

The Human Touch
Use the tactile approach for added precision. Emotional Haptic feedback makes purchases, precise camera adjustments, and notifications a multi-sensory experience.

Now with VR
The LG V30 is LG's first Google Daydream-ready phone. Combined with the LG V30's 6.0" OLED FullVision Display, prepare to experience an expanded variety of VR-immersive applications in your favorite games, movies, and videos.

Beat Fever
Featuring today's hottest hit songs, Beat Fever is a mobile music game where you can immerse yourself with music fans and world renowned artists. Personalize your character with 3 exclusive outfits and bring your character to life with a custom emote animation. It's an offer worth over £70, exclusively for LG V30 customers.