Asus ZenFone ZS620KL-2A024EU Blue smartphone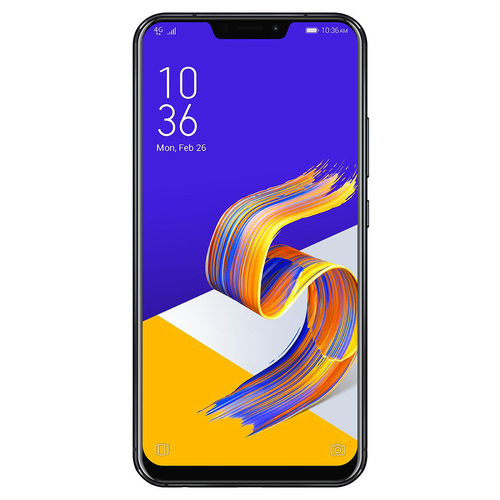 Model:
ZS620KL-2A024EU
₴14050 – 17950 (UAH)
ASUS ZenFone ZS620KL-2A024EU. Display diagonal: 6.2"", Display resolution: 2246 x 1080 pixels, Display type: IPS. Processor frequency: 2.8 GHz, Processor family: Qualcomm Snapdragon, Processor model: 845. RAM capacity: 8 GB, Internal storage capacity: 256 GB. Rear camera resolution (numeric): 12 MP. SIM card capability: Hybrid Dual SIM, 4G. Operating system installed: Android 8.0. Battery capacity: 3300 mAh. Product color: Blue. Weight: 5.82 oz (165 g)
Compare Prices (UAH)
Specs Asus ZS620KL-2A024EU
Description Asus ZS620KL-2A024EU
Cameras that Think for You.
The artificial intelligence (AI) inside every ZenFone 5Z makes it more than just a smartphone: it's your intelligent companion that's always there for you. It takes perfect photos every time, whatever the subject, without you even having to think about it. No matter the task, ZenFone 5Z always delivers smooth and responsive performance, with the striking compact design and stunning looks making it a sheer joy to use. ZenFone 5Z is the smartphone that loves photos as much as you do!

Elegantly beautiful design, robust durability.
ZenFone 5Z is designed to impress, using only the finest materials and cutting-edge craftsmanship. Its spectacular edge-to-edge 2.5D-curved screen merges imperceptibly with the delicate body, giving ZenFone 5Z a beautiful seamless appearance and a luxurious feel.

AI-powered performance
At the heart of ZenFone 5Z is the flagship Qualcomm® Snapdragon™ 845 Mobile Platform and Qualcomm Artificial Intelligence Engine, which combine the ultimate app and AI performance with superb battery life. ZenFone 5Z is engineered to run cool even when running lots of demanding apps, and there's plenty of extra power on tap if you need it. It also features all the latest and greatest connectivity options for maximum convenience wherever you are.

Intelligent cameras that learn to think like you
The intelligent dual-camera system in ZenFone 5Z thinks for you, with advanced AI features that anticipate your needs and adapt to your preferences, so you can concentrate on the subject, not the camera, and get perfect results every time. ZenFone 5Z revolutionizes mobile photography, giving you a simpler, smarter way to capture and share every magic moment.

Built to capture your whole wide world
The dual-camera system in ZenFone 5Z uses cutting-edge hardware to take your photography to new heights, so you'll always get the clearest and brightest shots every time, in any conditions. With a highly light sensitive main camera, a wide-angle second rear camera, and a capable front facing camera, whatever the subject — expansive landscapes, sunny beaches, atmospheric night shots, family portraits or selfies — ZenFone 5Z takes it all in its stride, capturing more of your wonderful world. ZenFone 5Z removes the limits on your creativity, so you can concentrate on the subject, not the camera.

Charge faster, go further
ZenFone 5Z has maximum on-the-go stamina, and when it's time to recharge, ASUS BoostMaster technology makes charging incredibly fast! ZenFone 5Z introduces AI-powered intelligent charging that maximizes your battery's lifespan and provides total protection. This dynamically adjusting the charging rate, which slows down the battery ageing process. ZenFone 5Z really is your intelligent companion!

Immerse yourself in a smarter, more gorgeous screen
ZenFone 5Z has a stunning all-new edge-to-edge screen design that lets you see more, yet still fits comfortably in your hand. This gorgeous screen is totally immersive and supports the cinema-grade DCI-P3 color space, making photos, videos, movies and games look better than they've ever looked before. Its AI technology ensures that images always look their best, and it's even smart enough to keep the screen turned on when you're looking at it!

Discover your inner ZeniMoji!
ZeniMoji is a fun new ZenFone 5Z feature — exclusive to ASUS — that lets users animate cute avatars using their own voice, facial expressions and head movements. Uniquely, ZeniMoji avatars can be used in video chats or live-streaming, as well as in text chats, to make them more entertaining!

Clearly better calls
ZenFone 5Z has the intelligence to help you with all your tasks, including the most important one — communicating with people. Constantly adjusting the ringtone volume depending on where you are a nuisance, so ZenFone 5Z has AI Ringtone that intelligently adapts the ringer volume to suit the ambient noise level. When you're somewhere noisy, it increases the volume, and when it's quiet — such as on your bedside table at night — it reduces the volume so it won't disturb you. Its smart AI-powered call features let ZenFone 5Z adapt itself to your environment, so you'll always enjoy crystal-clear call quality and recordings.

Two easy ways to unlock your phone
ZenFone 5Z is now easier to use and more convenient than ever. The new face unlock feature lets you unlock your ZenFone 5Z simply by looking at it — perfect for messy fingers or when you're wearing gloves. There's also a fingerprint sensor that unlocks the phone in an instant, and combined with ZenFone 5Z's NFC capability you can enjoy trusted security for services like Google Pay.

Intelligent immersive sound to delight your ears
Audio on smartphones is all too often an afterthought, but not on ZenFone 5Z. Our dedicated audio engineering team made sure of that, with powerful hardware, AI-enhanced software and state-of-the-art audio quality that will give your ears a treat, whatever you're listening to.
Gallery Asus ZS620KL-2A024EU