Asus ZenFone ZB602KL-4A143EU Black smartphone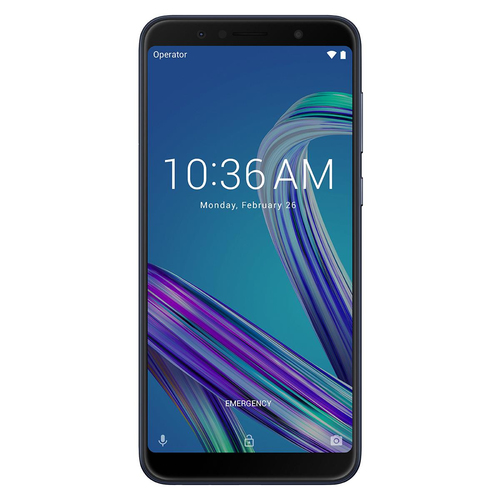 Model:
ZB602KL-4A143EU
₴5424 – 6508 (UAH)
ASUS ZenFone ZB602KL-4A143EU. Display diagonal: 6"", Display resolution: 2160 x 1080 pixels, Display type: IPS. Processor frequency: 1.8 GHz, Processor family: Qualcomm Snapdragon, Processor model: 636. RAM capacity: 4 GB, Internal storage capacity: 128 GB. Rear camera resolution (numeric): 13 MP. SIM card capability: Dual SIM, 4G. Operating system installed: Android 8.1. Battery capacity: 5000 mAh. Product color: Black. Weight: 6.35 oz (180 g)
Compare Prices (UAH)
Specs Asus ZB602KL-4A143EU
Description Asus ZB602KL-4A143EU
Unbeatable Performer
ZenFone Max Pro (M1) is the next-generation smartphone with Snapdragon 636 platform providing extraordinary performance and endurance that will take you further than you ever thought possible. With its magnificent 6" Full HD+ (2160x1080) 18:9 Full View display, ultra-long-lasting 5000mAh battery, dual-camera system and breathtaking sound, ZenFone Max Pro has all the stamina and power you need to match your non-stop lifestyle. ZenFone Max Pro is your enduring companion, always ready to capture every special moment.

14nm octa-core advanced mobile performance
At the heart of ZenFone Max Pro is an advanced Qualcomm® Snapdragon™ 636 Mobile Platform, which combines smooth, responsive performance with superb battery life. This processor is up to 1.54x faster than its predecessor, the Snapdragon 625. Whatever you're doing, ZenFone Max Pro can handle it easily, with performance to spare.

Massive stamina
Inside the sleek exterior of ZenFone Max Pro is a massive reserve of stamina: a powerful 5000mAh lithium-polymer battery custom-crafted to pack maximum performance into minimum space. With so much power on tap, you can browse more, game more, stream more — and talk as much as you want without worrying about finding a power outlet.

Full View display
Dive into the immersive visual experience of ZenFone Max Pro, with the expanded Full View display that lets you see more, and see it better. ZenFone Max Pro makes photos, videos, or any kind of content look better than they've ever looked before. With ZenFone Max Pro everything's clearer, brighter and bigger!

Same size, more screen
ZenFone Max Pro lets you see more, in less space! Its ultra-compact 6-inch display has an ultraslim bezel, so it fits in a slim body that's the same size as most standard 5.5-inch phones. It's the ultimate ergonomic design that's beautiful, slim and comfortable to hold.

180g all metal, less bulk
ZenFone Max Pro is built to last using solid metal, with a slim and light body that's precision-crafted to give it a luxurious feel without being bulky. For rapid unlocking, there's a fingerprint sensor cleverly located at the back for easy access, just one of the many thoughtful details that make ZenFone Max Pro anything but ordinary. And to match your unique style, you've a choice of two stunning finishes: Deepsea Black and Meteor Silver.

Capture the realistic moments
ZenFone Max Pro has an advanced dual-camera system that will take your mobile photography to new heights. The rear camera focuses on the subject in less than the blink of an eye, and has a high-resolution sensor with a high-quality wide-aperture lens that captures clearer photos, every time. ZenFone Max Pro shoots video at up to 4K UHD resolution — four times the quality of Full HD! There's nothing complicated for you to do: just point, shoot and share your memories, all captured with incredible levels of detail.

Capture perfect portraits
For gorgeous portraits and close-ups, the second camera on ZenFone Max Pro is used to create an artistic depth-of-field effect, putting the subject in sharp focus while progressively blurring the background for a gentle yet powerful effect that really makes the subject stand out.

Capture the beauty of you
To help you take the most indulgent selfies, ZenFone Max Pro has a live beautification feature that instantly retouches your shots to remove blemishes, balance facial features, enhance skin tone and more. ZenFone Max Pro really lets your beauty shine!

Magnificent entertainment
ZenFone Max Pro's speaker has a five-magnet construction with a metal voice coil, driven by a powerful NXP smart amplifier that delivers powerful, emotional sounds in every scenario — and at supreme quality levels. When you're ready to kick back with a movie or your favorite sounds, the cleverly designed MaxBox turns ZenFone Max Pro into an audio powerhouse by reinforcing and redirecting the sound from the speakers, with no need for batteries or cables. Just pop ZenFone Max Pro into MaxBox6, and you can party all night long!

More connections, more storage
ZenFone Max Pro has two SIM card slots that support 4G LTE speeds up to 400Mbps, and a microSD slot that lets you instantly expand your storage up to 2TB. Its handy triple-slot tray lets you install two SIMs and a microSD card in one easy step.

Unlocks at your convenience
Messy or busy fingers? No problem! ZenFone Max Pro has a facial-recognition system — face unlock — that recognizes your unique features and rapidly unlocks your phone. There's also a rear fingerprint sensor that's perfectly positioned for the way you hold your phone. It unlocks ZenFone Max Pro in just 0.3 seconds — even if your fingers are damp!

Faster, smarter with a pure Android™ experience
The latest version of the beautiful Android™ user interface delivers an intuitive experience that helps you do stuff faster, improve your productivity, and simply lets you have more fun with your phone.
Gallery Asus ZB602KL-4A143EU