Asus ZenFone 2 ZE551ML-6C450WW Red smartphone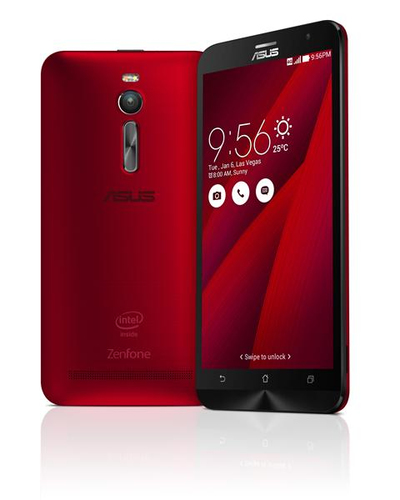 Model:
ZE551ML-6C450WW
₴9172 – 11007 (UAH)
ASUS ZenFone 2 ZE551ML-6C450WW. Display diagonal: 5.5"", Display resolution: 1920 x 1080 pixels, Display type: IPS. Processor family: Intel® Atom™, Processor model: Z3580. RAM capacity: 4 GB, Internal storage capacity: 32 GB. Rear camera resolution (numeric): 13 MP, Rear camera type: Single camera. SIM card capability: Dual SIM, 4G. Operating system installed: Android 5.0. Battery capacity: 3000 mAh. Product color: Red. Weight: 6 oz (170 g)
Compare Prices (UAH)
Specs Asus ZE551ML-6C450WW
Description Asus ZE551ML-6C450WW
A Marvel of Craftsmanship and Engineering, in The Palm of Your Hand
A marvel of craftsmanship and engineering that combines the beauty of Zen, unprecedented performance, fast charging, sharp vision and a seamless and intuitive UI, designed to be your best companion.

The Beauty of Zen Beautifully-Crafted with Ultra-Thin Edges
ZenFone 2 has incredibly-slim 3.9mm edges. This is more than an impressive engineering feat, it's a marvel of design and ergonomics, making the ZenFone 2 incredibly comfortable to hold. The iconic ASUS concentric-circle design adorns both the front and rear key, giving a beautiful, tactile effect. This effect is achieved through precision machining that produces circles with a mere 0.13mm pitch, giving ZenFone 2 a premium look and feel.

Ergonomic Arc Design with Intuitive Rear Controls
When designing the ZenFone 2, we started with you in mind. As a result, ZenFone 2 has a highly-intuitive control layout, incorporating a physical rear key as part of the new Ergonomic Arc design. Snapping selfies, adjusting the volume and retracing your steps now feels completely natural, regardless of whether you are right- or left-handed. The elegant new shape feels secure and extremely comfortable to hold.

Less is More
ZenFone 2 is a 5.5-inch smartphone with a body that's as small as that of a traditional 5-inch device. This incredible engineering achievement was made possible by reducing the bezel width to the bare minimum, giving ZenFone 2 a remarkable 72% screen-to-body ratio.

Celebrate Your Uniqueness
Celebrate your uniqueness with the Fusion and Illusion series.
Designed for those who refuse to conform or accept compromise.

Unprecedented Performance Performance for Today, and Beyond
ZenFone 2 is powered by a 64-bit 2.3GHz Super Quad-Core Intel® Atom™ Z3580 processor, and is the world's first smartphone with 4GB of dual-channel DDR3 RAM. Featuring LTE Cat 4+ for download speeds up to 250Mbit/s, and a 60ms touch response time, ZenFone 2 gives you power beyond your imagination.

Sharp Vision See What Others Can't See
ZenFone 2's 13MP PixelMaster camera with its f/2.0-aperture lens captures stunning, high-resolution photos with zero shutter-lag. The industry-leading Low Light mode employs pixel-merging technology to capture up to 400% brighter photos at night or in low-light scenes, without the need for a flash. Backlight (Super HDR) mode lets you see clearly through daytime shadow and Super Resolution mode helps you to capture detailed images at resolutions of up to 52MP!

Tame The Brightness with Backlight (Super HDR) Mode
PixelMaster Backlight (Super HDR) mode automatically captures multiple shots of the scene in the viewfinder, and processes these using ASUS Pixel Enhancing technology. This expands the dynamic range by 4 times to give the final picture up to 400% more brightness, along with improved color contrast and detail to ensure the photos you capture in any scene with strong back-lighting look totally natural.

Unrivaled Low Light Mode
Through a combination of pixel-merging technology, which joins four adjacent pixels to form a new pixel, and advanced image-processing algorithms, Low Light mode increases light sensitivity by up to 400%. It also enhances noise reduction and boosts color contrast by up to 400%, for clear and bright low-light shots with no need for flash.

Fast Charging
60% of Battery Capacity in 39 Minutes!
ASUS BoostMaster technology is an ASUS-exclusive technology that charges the battery much faster than in traditional devices. With ZenFone 2, you can recharge your battery up to 60% of capacity in just 39 minutes!

* The 18W BoostMaster adapter is included with 2.3GHz/4GB ZenFone 2 model only.

Your Best Companion A Simpler, Smarter, More Personalized ZenUI Experience
Freedom, connection, and expression form the foundation for ASUS's ZenUI mobile user interface. The brand-new ZenUI has an exquisite visual design plus a wide range of new features — including ZenMotion, SnapView, Trend Micro™ Security and ZenUI Instant Updates — that enhance usability, ensure security and privacy, and deliver a seamless user experience.
Gallery Asus ZE551ML-6C450WW