Asus ZenFone Max Plus ZB631KL-4D087EU Blue smartphone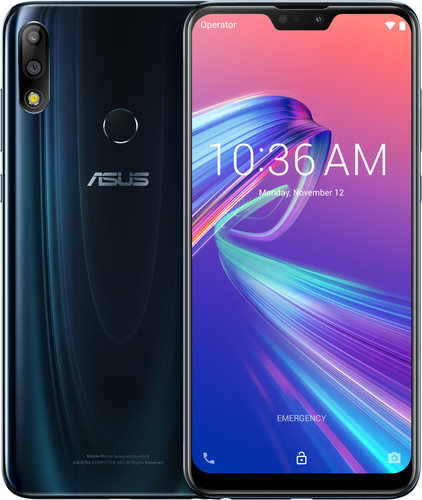 Model:
ZB631KL-4D087EU
₴8075 – 9925 (UAH)
ASUS ZenFone ZB631KL-4D087EU. Display diagonal: 6.3"", Display resolution: 2280 x 1080 pixels, Display type: IPS. Processor frequency: 1.95 GHz, Processor family: Qualcomm Snapdragon, Processor model: 660. RAM capacity: 6 GB, Internal storage capacity: 128 GB. Rear camera resolution (numeric): 12 MP. SIM card capability: Dual SIM, 4G. Operating system installed: Android 8.1. Battery capacity: 5000 mAh. Product color: Blue. Weight: 6.17 oz (175 g)
Compare Prices (UAH)
Specs Asus ZB631KL-4D087EU
Description Asus ZB631KL-4D087EU
The all-new ZenFone Max Pro (M2) harnesses the epic performance of the Snapdragon™ 660 Mobile Platform to give you the power to achieve whatever you want to do. Its massively powerful 5000mAh battery is perfect for non-stop mobile gaming or endless movies, and the phone is impeccably protected by Corning® Gorilla® Glass 6 at the front. The AI-powered dual-camera system with its flagship Sony® main sensor captures fantastic photos every time for every subject — day or night, portraits or scenery — without you even having to think about it! ZenFone Max Pro is your enduring and intelligent companion that's built to go the distance.

PERFORMANCE
The power to achieve
ZenFone Max Pro is powered by the mighty Qualcomm® Snapdragon™ 660 Mobile Platform, incorporating the Qualcomm AI Engine, for smooth, responsive and power-efficient performance. It gives ZenFone Max Pro effortless power, delivering the ultimate experience for mobile gaming and multitasking, and making it easy to achieve whatever you want to do.

BATTERY
The power to endure
It may look sleek, but inside ZenFone Max Pro there's a monster. Its 5000mAh high-capacity battery has the stamina to endure longer than you ever thought possible: lose yourself in non-stop gaming, immerse yourself in endless movies, or just browse or talk for as long as you want. With ZenFone Max Pro, you're in control of your time.

AI CAMERAS
Intelligent cameras that think for you
The intelligent dual-camera system in ZenFone Max Pro thinks for you. With advanced AI Scene Detection, you can concentrate on the subject, and get perfect results every time. ZenFone Max Pro revolutionizes mobile photography, giving you a simpler, smarter way to capture and share every magic moment.

DUAL REAR CAMERAS
Capture realistic moments
The dual-camera system in ZenFone Max Pro uses high-end hardware to take your photography to new heights. With its high-resolution, incredibly light-sensitive Sony® IMX486 sensor, ZenFone Max Pro takes any subject in its stride, so you'll enjoy more-realistic photos at any time of day or night. Phase-detection autofocus (PDAF) and Electronic Image Stabilization (EIS) get rid of camera shake for blur-free handheld shots and videos, with accurate focusing on any subject, in an instant.

PORTRAIT MODE
Capture perfect portraits
For gorgeous portraits and close-ups, the second camera on ZenFone Max Pro uses depth-sensing technology to create an artistic 'bokeh' effect, putting the subject in sharp focus while blurring the background for a gentle yet powerful effect that really makes the subject stand out.

HIGH LIGHT SENSITIVITY
Capture clear photos, anytime
ZenFone Max Pro's main camera is designed to take the best possible photos — under any lighting conditions. The incredibly light-sensitive sensor captures bright, clear, and more realistic photos at any time, and it's especially impressive in low-light or backlit situations.

BEAUTY MODE
Capture the ideal you
To help you take the most indulgent selfies, ZenFone Max Pro has Real-time Beautification, with three levels of live beautification to instantly retouch your shots to soften your skin, like removing small blemishes, and also change the skin tone. ZenFone Max Pro really lets you shine!

DISPLAY
Expanded display with gorgeous visuals
The latest all-screen high-res display design on ZenFone Max Pro is simply stunning, so you can immerse yourself in exciting mobile games or videos. The high-quality display, with its wide color gamut, outstanding brightness and high contrast ratio, makes everything on your phone look clearer and more vivid. It's nearly as good as reality!

DESIGN
Corning® Gorilla® Glass 6: engineered for toughness
ZenFone Max Pro is the first ZenFone to use the latest Corning® Gorilla® Glass 6, which is designed to withstand multiple 1-meter drops. ZenFone Max Pro looks amazing, and it's designed to stay that way!

Premium design: a treat for your eyes
ZenFone Max Pro is a masterpiece of design with a seamless appearance and a truly luxurious feel. The new back cover design on ZenFone Max Pro is sure to grab attention: the eye-catching Wave finish looks beautiful from every angle, showing an ever-changing interplay of light and shade. The glossy 3D-curved cover fits perfectly in your palm and feels great, too.

New
Wave finish
3D-curved glossy design

AUDIO
Magnificent sound to delight your ears
For a superb audio experience, ZenFone Max Pro uses a five-magnet speaker with a metal voice coil, driven by a powerful NXP low-distortion smart amplifier that delivers powerful, detailed and crystal-clear sound. ZenFone Max Pro will delight your ears, and take your entertainment to a new level.

TRIPLE SLOTS
More connections, more storage
With ZenFone Max Pro, there's no need to carry two separate phones: its handy triple-slot tray takes two SIM cards, and there's also a microSD card slot supporting up to 2TB of extra storage. So you can have two different active phone numbers, and there's heaps of space for all your videos, photos, gaming records and other stuff!

UNLOCK
Unlocks at your convenience
Messy or busy fingers? No problem! ZenFone Max Pro has a facial-recognition system that lets you unlock your ZenFone Max Pro simply by looking at it. There's also a rear fingerprint sensor that's perfectly positioned for the way you hold your phone. It unlocks ZenFone Max Pro in just 0.3 seconds — even if your fingers are damp!

STOCK ANDROID
A fast, smart Android™ experience
The beautiful Android™ user interface delivers an intuitive experience that helps you improve your productivity, and simply lets you have lots of fun with your phone.
Gallery Asus ZB631KL-4D087EU